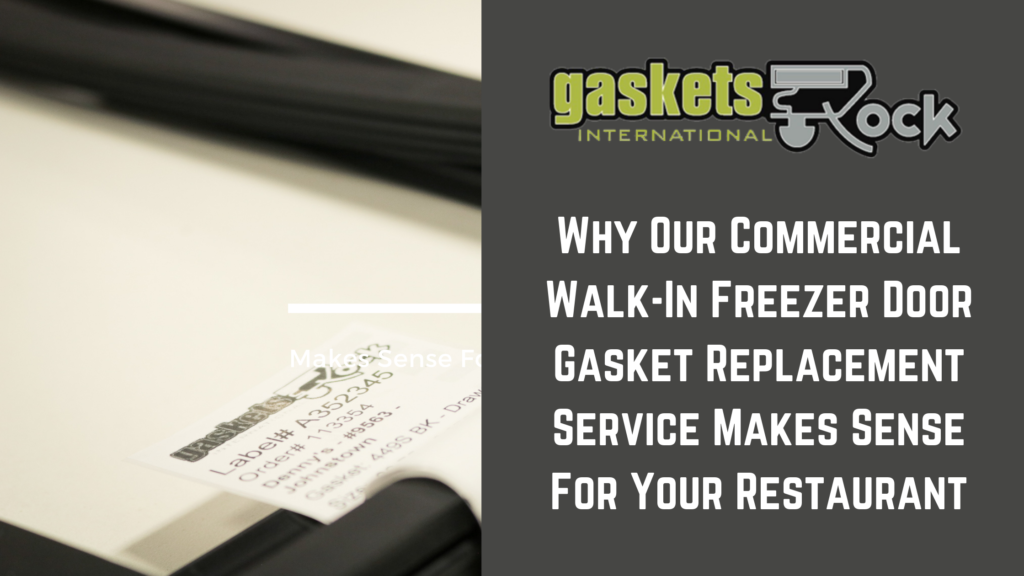 Here at Gaskets Rock, we know that gaskets are awesome. But when your walk-in freezer door seal fails, that is definitely not cool.
We often hear the same heart-breaking story: you open your commercial freezer to grab some high quality food and drink that will blow your customers' socks off, but the door won't fully close. It is a frustrating problem that can lead to undue stress and melted ice cream. Unfortunately when your walk-in freezer gasket is cheaply made and poorly installed, it can fail way before its time and leave you with spoiled groceries.
Luckily, no one knows gaskets like us. We have been working in the walk-in freezer door gasket replacement industry for decades, helping happy customers all over North America. Our specially-designed door seals will ensure you never again lose points for gaskets on your health and safety inspections. If you have a freezer, we will have a matching gasket for it!
Your commercial freezer door gasket is a small but mighty part of your appliance. The flexible rubber strip seals in the cold air so food stays fresh and unaffected by the warmer kitchen temperatures. When the gasket is functioning properly, it creates an airtight environment for your produce. So far, so good. However, things can quickly take a turn for the worse. If the seal malfunctions, the freezer will not be able to maintain a safe temperature. Because of this failure, the appliance will need to work even harder to stay cold. As you can see, a faulty walk in freezer door seal can spell disaster for your business.
It is not always easy to tell if you have a faulty gasket as the signs are not always immediately visible. It is well worth doing periodic checks so you can act straight away. If you recognise the following issues, it is likely time for a new freezer door gasket:
The seal is cracked, torn or in any way damaged
Cold air is leaking out of your freezer around the doorframe
There is a sudden spike in your electric bill
If these problems sound familiar, don't hesitate to contact us. We have spent years researching and refining the perfect commercial freezer gaskets so we have the solution for you.
ABOUT GASKETS ROCK
We launched Gaskets Rock so we could provide a reliable and high quality alternative to the costly but inferior gaskets that the market has become so accustomed to. We know that you and your kitchen deserve the best, and that is why we have curated the perfect team of Managing Partners across America and beyond.
Our customers manage high volume restaurants where there is little room for anything to go wrong. Fortunately, our vast experience means we have perfected the gasket replacement service..
We know how stressful it can be when you realise your door gasket is faulty. Know that there is no need to panic, as our experienced teams are located across the United States, Canada and Mexico and are delighted to help. As we cover so much ground we are able to work with more commercial kitchens coast to coast than anyone else, and we guarantee client satisfaction
WHY CHOOSE US?
The efficient Gaskets Rock process has been devised to save you time and frustration. We are firm believers that a faulty gasket shouldn't cost you the earth, or weeks of business hours. Our reliable and professional teams can produce and install your new seal between 3 and 7 days, location dependent.
Gaskets are incredibly important but all too easy to overlook. Thankfully, gaskets are on our mind all the time! Our comprehensive knowledge of freezer door gasket replacement means that we are able to install a new seal for many brands and manufacturers.
We get it, Original Equipment from the Manufacturer (OEM) OEM replacement might seem like the easiest option. Who knows better than the original manufacturer, right? Well, we do. OEM products are often not designed for intense use and can fail easily. Our high quality products are more reliable than OEM as they are much more robust and made of superior materials. Our heat- and mold-resistant gaskets are designed to last, so no matter how passionate your kitchen team are, the frozen goods will stay super chill!
We care about you and the future of your business, which is why our customers become lifelong clients who know they can rely on us. We will never cut corners or skimp on quality. So not only can our gasket replacement service save you in a crisis, but it can also pay dividends in the long run. A quality form-fitting gasket from us will lock in the cold air and prevent the gasket from working too hard, which means lower energy bills and more money in your pocket.
At Gaskets Rock, safety is our top priority. We want you and your employees to feel secure in the knowledge that your kitchen appliances are in perfect condition. Our gaskets are free of lead, mercury, and cadmium to provide you with complete peace of mind.
Our business is built on trust between us and our loyal customers, and we are proud of our ability to create solid partnerships. We are committed to knowing the needs of our customers, which is why we offer a complimentary auditing service to make re-ordering a breeze. We will label all of your freezer units at no cost, so that we have your make, model, and gasket profiles on record for future purchase and installation. At a time when health and safety is more important than ever, you need reliable gaskets that are long-lasting and form-fitting. We are confident that once you become a Gaskets Rock customer, you will never look back. Spark a relationship with us, and customers will flock to your business – the home of the freshest food in town!
We are based in Pittsburgh, PA, and have Managing Partners across the United States and Canada. We are dedicated to being wherever you need us. Simply let us know your needs and we will give you a lasting solution that is as unique as your business.