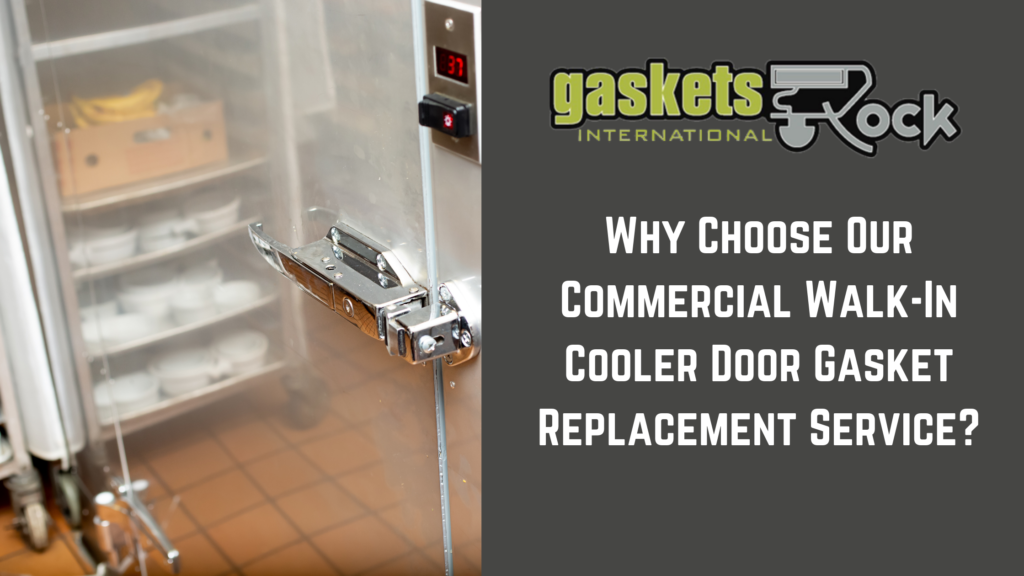 Here at Gaskets Rock we appreciate that walk-in cooler gaskets might not be the most exciting thing to consider. Luckily, they are exactly that for us.
At Gaskets Rock we can install and replace commercial refrigerator door gaskets and walk-in cooler gaskets for a wide range of brands. Our custom-made gasket replacement service from production to installation takes between 3 and 7 days, depending on your location.
The team at Gaskets Rock are expert listeners, and we hear you when you tell us what you want for your business. Between your creative ambition and our reliable and professional knowledge, we provide a first-class service without compromise.
Refrigerator and cooler gaskets are a minimal part of your appliance, and a tiny drop in the vast ocean that is your business. Yet despite being so understated, this part plays a vital role in ensuring your cooler stays running as it should. The purpose of the gasket is to form an airtight barrier between two conflicting elements: the heat and grease radiating around your kitchen, and the cold air that is sealed inside your refrigerator.
It's fair to say that this discreet piece of equipment is somewhat of a commercial kitchen hero. It could be the reason you either pass or fail food safety inspections, so it is very important that you know when your gasket needs replacing.
So now you know how important they are, but you still only think about your restaurant cooler gaskets when it has an issue, right? If your gasket does fail, it could stop your business in its tracks. You may think that the most accessible option is Original Equipment from the Manufacturer (OEM), but you're setting yourself up for further frequent gasket faults.
Let us save you the headache by diagnosing your gasket problem with a few short questions. Does your appliance:
Have a cooler compressor that is running non-stop?
Need never-ending maintenance?
Struggle to maintain the correct temperature?
Cause food to spoil prematurely, leading to waste, high grocery bills and undue stress?
If you answered yes to these questions, we can say with confidence that your appliance needs a door gasket replacement. The good news is that we at Gaskets Rock have spent years researching and refining the perfect commercial cooler door gaskets for customers across North America.
Put simply, we think about gaskets so that you don't have to.
ABOUT GASKETS ROCK
Gaskets Rock was borne out of a desire to deliver high-quality, affordable commercial kitchen gaskets that are a perfect match for your appliances. We started our service because we heard your exasperated cries of being so tired of your current refrigeration gasket supplier. You deserve the best, and that is exactly what Gaskets Rock provides.
Over the years, we have built a client base that love our excellent products. Our customers run high volume restaurants where they know there is little room for error. Thankfully, we feel the same! We know that you have much more to worry about in your business than your walk-in cooler door gaskets. So let us take care of them for you.
WHY CHOOSE US?
Our Gaskets Rock engineers use the highest quality walk-in cooler door gaskets available. These gaskets are resistant against heat, grease, and mold, and are not defeated by wear and tear. Our walk-in cooler gasket replacement service uses superior materials, ensuring they last much longer than OEM.
What's more, we would never make you sacrifice style for practicality and so our gaskets are available in modern hues of grey and black.
We are always delighted when a new customer chooses us. Many of them have unfortunately fallen into the trap of high cost but low-quality walk-in cooler door gasket replacement. We appreciate that OEM might seem like the easiest, most obvious way to replace commercial cooler door gaskets. Unfortunately, they are not robust enough for commercial kitchen level where temperatures often fluctuate. We have spent years designing the perfect walk-in cooler door seal that seamlessly fits in with your business.
Building trust with our customers is at the forefront of our business, and we take pride in creating solid relationships. We are dedicated to knowing the needs of our customers, and part of this is our complimentary auditing service. We will label all of your refrigeration units at no charge, so that we have your make, model, and gasket profiles on record for future purchase and installation. Spark a partnership with us and attract the love and trust of customers who call your business the home of the freshest food in town!
Our team have spent decades working with a wide range of appliances, and so we know that every commercial refrigerator and cooler serves a different purpose. Your business is unique, and there are a multitude of things to take into account including location of other appliances and external temperatures. We are delighted to offer our clients a custom-made solution that perfectly aligns with their business. Prior to the manufacturing process, we take the time to understand your needs. This important information, paired with details of the appliance specifications, allows us to create a bespoke replacement service. With quarterly inspections to check for wear and tear, we are always here for you long after we have installed your walk-in cooler door seals.
We understand that in the food service industry, the health and safety of you and your employees is paramount. So we have made our gaskets free of lead, mercury, and cadmium.
Over the last year, there have been so many question marks over the future of the hospitality industry. Periods of closure and reduced earnings will have no doubt caused heartache. With the easing of restrictions, we are more passionate than ever about supplying high quality walk-in cooler gasket replacement to ensure your business is ready to fly high once more. Our extraordinary value will provide peace of mind that your appliances are in tip-top shape. Choose our replacement service and you need never worry about your refrigeration gaskets again.
Headquartered in Pittsburgh, PA, we have Managing Partners across the United States and Canada so we can be wherever you need us. Let us know your needs and we will give you a lasting solution.