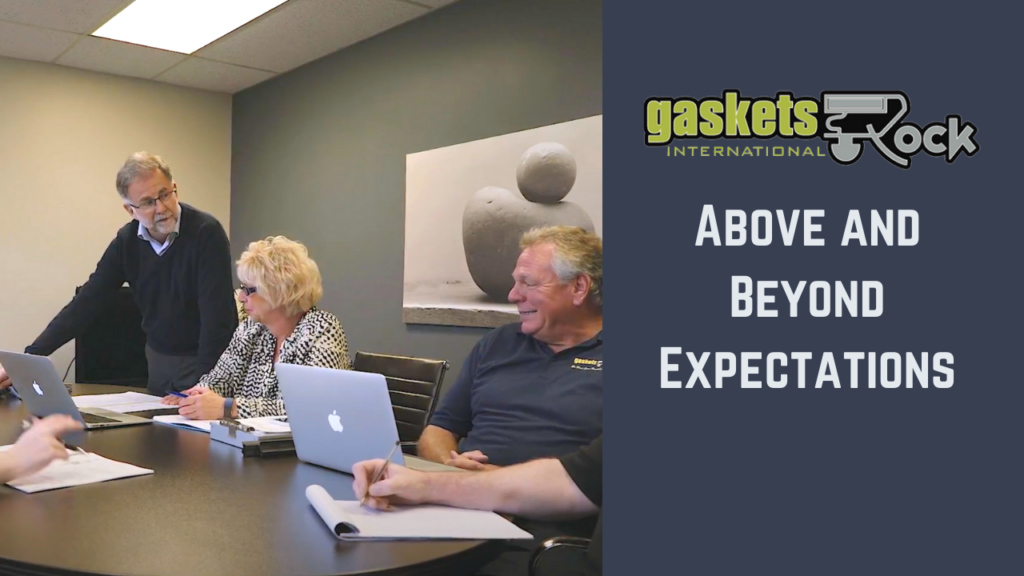 With tens of thousands of customers coast to coast and many new customers coming on board daily, I am often asked what is the secret to our success? It always gives me a slight moment of pause because the answer on the surface is simple, but under closer examination, there are a lot of extraordinary parts that allow us to earn the trust of so many customers.
We have attracted the best of the best when it comes to talent, dedication, customer service, professionalism, communication and so much more!
Gaskets Rock's Managing Partners and supporting teams in the field listen to the needs of their customers and service them like no other company. Combine that with installation skills that are unparalleled and we develop a relationship with our customers for life. At Gaskets Rock, we only bring on consummate professionals, who understand the importance of perfectly accommodating our customers. With so many commercial kitchens facing health and corporate inspections, our customers need our team to be 100% reliable and professional.
Yet, our guys are not just individuals who simply waltz into a kitchen, change a few gaskets and move on to the next customer. The support our guys in the field receive in order to ensure the perfect gaskets are installed in our customer's commercial kitchens is utterly 5 Star across the board and like no other.
Diane Koerbel, our Director of Administrative Services, heads up a team dedicated to knowing the needs of our customers and making sure that is communicated to those in the field. Many of our restaurant customers use 3rd party facilities maintenance companies like Service Channel, Corrigo, EcoTrak and many more, to coordinate their work orders. Ideal communication to these groups, as well as to our team in the field, is critical to these commercial kitchens receiving the service from Gaskets Rock they need. Diane's understanding, commitment, knowledge, communication and professionalism is unmatched.
Dale Force, our National Sales Director, understands the aftermarket gasket industry like no one else. For the last 20 years, Dale has been replacing gaskets in commercial kitchens and very likely in that timeframe has replaced more refrigeration gaskets than anyone anywhere. His extraordinary expertise lends so much to Gaskets Rock. On a rare occasion when one of our Managing Partners or a member of their team is faced with a unique refrigeration unit like they have never seen, Dale provides the knowledge to perfectly replace the gasket. Dale also has the incredible ability to design gaskets that are better than OEM when replaced in the aftermarket situation. There are not enough accolades to express the value Dale brings to Gaskets Rock and to our customers!
Paul Yost, our VP of Operations, heads up the production facility at Gaskets Rock. Like Diane and Dale, there are not enough superlatives to describe his value! His knowledge about how refrigeration gaskets are installed in the field makes him the perfect person to head up production. In addition to becoming an unrivaled sealer and trainer of sealers (welding the corners of the gaskets), Paul spent two years installing gaskets for us in various parts of PA and Ohio. Since we stock over 80 profiles in both grey and black, Paul, along with Dale, provides amazing counsel in the field as to the ideal way to ensure our team achieves the best seal on any given door. Also, Paul's attention to quality is incomparable, as he only settles for perfection from his team of cutters, magnet inserters, sealers and shippers.
Patrick Cox is our COO, as well as my brother. Pat is a graduate of The Wharton School of Business and is our very trusted advisor when it comes to finances. However, for Gaskets Rock, Pat is far more than a bean counter. He has also spent significant time in the field understanding the nuances of gasket installations and has never been afraid to get his hands dirty. In fact, he is the key liaison between Gaskets Rock and several key customers. Pat also plays an important role in communication with our teams across the country. Like everyone at Gaskets Rock, he goes above and beyond to ensure our relationship with our customers remains strong.
At Gaskets Rock, we have assembled an amazing team that is united in its effort to provide commercial kitchens everywhere value that is beyond compare when it comes to replacing their aftermarket refrigeration gaskets.