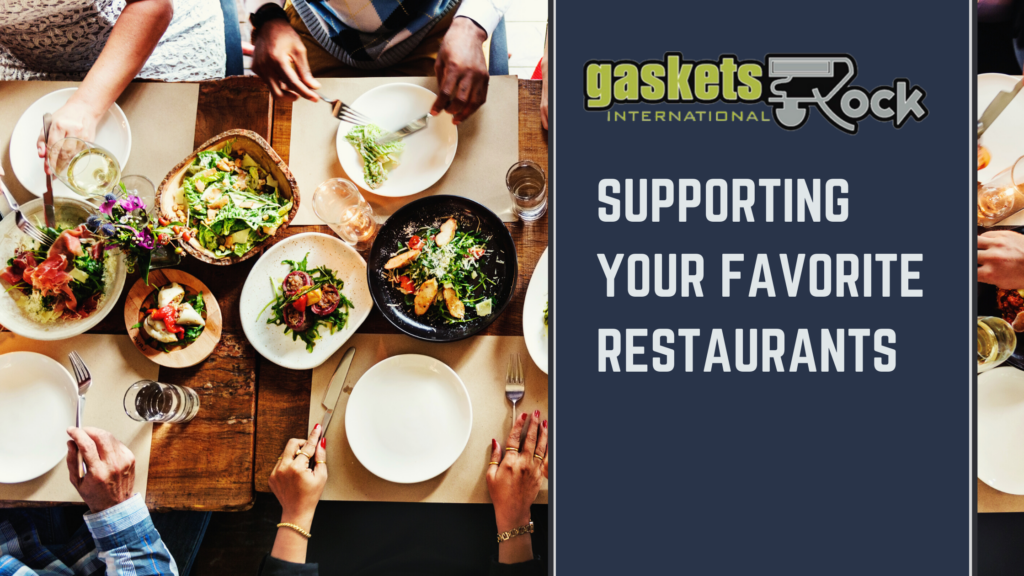 It's no secret that restaurants have taken a major hit over the course of this pandemic, yet they are the very backbone of our communities across the US and beyond. At Gaskets Rock, we have been reflecting on our restaurants who have served to bring our families and communities together over the years. 
We all have restaurants we go to where we know the names of the hosts and servers, where we have our favorite dish that we order time and time again, and most of all, the place where we are welcomed like family. It is these restaurants that we will remember over the course of our lifetimes, as they are the places where we celebrate life's most important events—good report cards, birthdays, weddings, and more. But it is the way that they become a comforting part of our lives throughout the mundane that truly solidifies them in our memories.
Restaurants have done the most to foster a sense of normalcy throughout these trying times. Many restaurants have moved their menus online for the first time, offered family style meals and delivery services, and invested in air purifiers and plexiglass dividers to ensure the safety of their patrons. They have opened up their kitchens and the employees have volunteered to provide meal services to those in need.
Restaurants will forever be the centers of our communities, and it is up to each of us to ensure that they will still be there once things have returned to normalcy. For all that these restaurants have done to support our communities throughout the years, in whatever way we are capable, we should do our best to support them.
Ways you can help your local restaurants:
Buy a gift certificate to use at a later time
Whether it is for yourself and your family or as a gift to someone, this will help sustain the restaurant until 100% in-person dining can resume
Check if they are offering takeout services or delivery
Now and again, we all get tired of our own cooking, and though we may not always be able to go out and eat, we can still find ways to support our favorites in a safe and responsible way.
Tip well
The employees in the restaurant industry, whether in-house or making deliveries, are working hard to safely prepare food and serve our food, and that tip can make a huge difference in supporting them.
Support restaurant relief funds
There are so many funds across the United States for the sole purpose of making sure our restaurants have the support that they need. Chances are, there is a local relief fund in your city!
Both restaurants and their patrons have continually adjusted to the changing nature of the pandemic and it is hopeful to see the creativity and determination which will, without a doubt, have a lasting imprint on us all. And there is also no doubt that we will overcome these challenges because this is what we have and will continue to do in our communities across the globe.