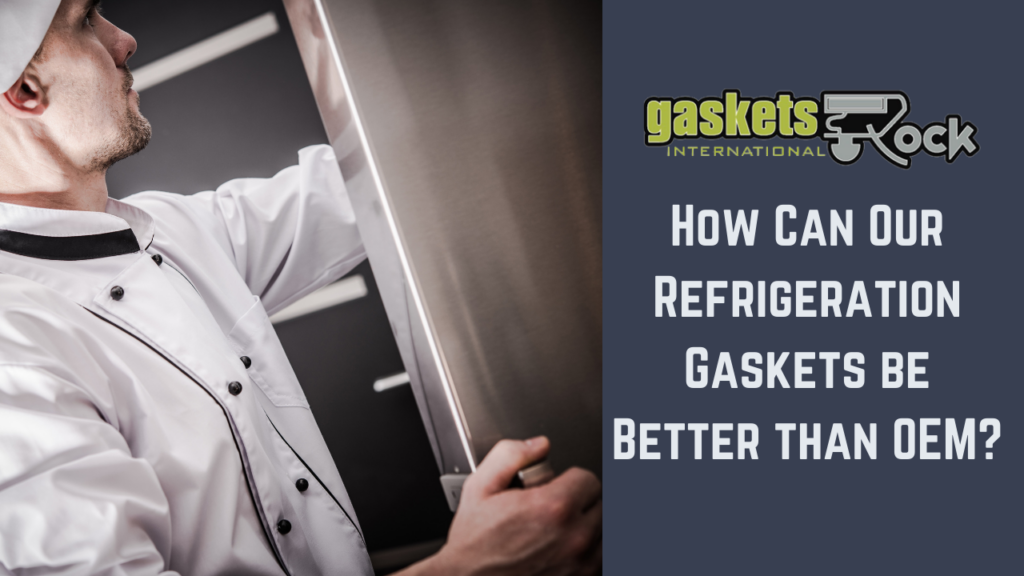 As Sales Director for Gaskets Rock International, it is my responsibility to arm our Managing Partners and Territory Managers, coast to coast, with the highest quality refrigeration gaskets imaginable. With health and safety so prominent these days, Gaskets Rock goes to great extremes to ensure that our customers' refrigeration units seal perfectly in order for those units to run at the ideal temperature, which keeps food safe.
(Editors Note: Dale has been installing gaskets since 2001 in restaurants all over the country and it is quite possible in that timeframe that no one anywhere has installed more refrigeration gaskets than him. So, he knows a thing or two about gaskets.)
OEM or Original Equipment from the Manufacturer seems like the obvious way to replace refrigeration gaskets once they are worn. However, that is far from the case. As our tens of thousands of customers will attest, Gaskets Rock refrigeration gaskets are better than OEM quality. You might be thinking, how could that be possible? There are two distinct reasons.
One. The vast majority of Gaskets Rock gaskets are the exact dimensions of the OEM gasket. However, our material is a significantly higher quality than OEM, ensuring that the gaskets wear longer and perform better than OEM. Because of our material, Gaskets Rock gaskets are The Longest Lasting, Best Performing and SAFEST Gaskets on the Planet…that also happen to be Heat, Grease and Mold Resistant!
Two. On some occasions the OEM gaskets work great upon delivery of a new refrigeration unit. However, in attempting to replace that gasket in the aftermarket situation with the OEM, they simply don't seal properly. For those unique units, even though they sealed great at the manufacturing level in a controlled 72 degree environment, at the commercial kitchen level where it can be extremely hot (or very cold if it is a freezer), the gasket profile just does not seal the way it is designed. In those unique cases, I actually design gaskets that seal better and last longer than the OEM.
In addition, even though OEM gaskets do not provide ideal quality, they are usually very expensive and often, delivery of them is very slow. With COVID so prevalent in everyone's minds, commercial kitchens face extra scrutiny from Health Departments and Corporate level inspections. They don't have time to wait nor do they have the budgets to spend a ridiculous amount of money to have so-called OEM gaskets installed.
Since COVID blindsided us in the middle of March, we have picked up an incredible number of new customers. The word is spreading that our professionals are extraordinary installers and our gaskets seal great and last a long time. With tighter budgets, these new customers appreciate the extraordinary value we provide them.
We introduce Gaskets Rock to new customers all the time and if I heard it once, I have heard it over 500 times from these prospective customers before experiencing our gaskets: "I am so sick of my gaskets wearing out in 2 months!
Does this sound like you?
---
Recent Posts: